Aloha All
I've landed in Tahoe and am staying at the beautiful mountain home of two dear friends, Heather and Owen. Coyotes, bears, beautiful mountain and lake scenery along with old and brand new friends are my neighbors. Yesterday, I had a good soak at some hot springs while being soul-fed by the wild nature here. My soul and heart are renewed. Whew, I needed that!
I'm plugging into the mens' community with various social and 'I' Group meetings (a Mankind Project thing). I look forward to introducing 'WE' Group medicine to these groups after I get to know them a bit more. I've learned over the last years the importance of connection and community even if it is my own nature to be the caveman and love my solitude. I'll share more about community as medicine in a future blog.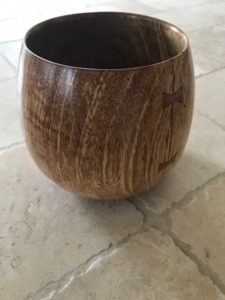 MEET BE-LOV-ED'S APPRECIATION BOWL
My dear friend Paul Pyzna 'turned' a piece of mango wood into this bowl. Paul is a master worker with wood and his home is filled with artistic creations as well as a lot of love and aloha. Rose and Paul presented me this as a going away gift. So…what is it's purpose?
My No Charge For Services Experiment:
I've changed my way of working with people and groups. I will no longer be charging a set fee for my services in working with individuals or groups or even consulting. I have many personal and philosophical reasons for doing this which I can share at another time. Basically it's a statement of inclusivity and an experiment of trust. What this means to you or your group is that I will accept any appreciation in any form that comes to the bowl. I'll be inserting this on my website, www.edfell.com next to my PayPal button. I ask that you consider what is in alignment with your finances and donate your appreciation accordingly. Or, if you prefer to write a few words of appreciation instead, that is perfect for me as well. I may have to limit the number of individuals, couples' or groups that I can work with so please be patient. Know that you are appreciated.
And, by the way, the GoFundMe project has raised well over $12,000. Thanks to all who have contributed money and prayers.
VIRTUAL 'WE' GROUP FORMING for YOU!
For those who don't know what WE Group is, I'd be happy to try and on-line experiment to see if we can create the same magic as in-person WE Groups. This is open to men and women. Email me separately with three or four times (PST) where you can participate in a 7 week WE Group. To be brief, WE groups is a way to deepen and build on the intimacy and connections within the group. That is the work. We, as a group begin to weave a field for which authentic, enlivening and very, very real intimacy grows organically. This genius social technology was created by the Matrix Leadership Organization out of Boulder, Colorado.
You will need to use Zoom platforming. It's easy. Men and women are invited to this, what I and a friend call…'deep play'.
WE technology is outstanding for corporate leadership training. I've been honored to offer this technology to a large not-for-profit which is creating a major shift in their Council.
I ask that if you decide to join, that you commit to participate for the whole 7 weeks.
IN SERVICE in Tahoe:
I've met a new friend who is facing his last days. We have connected a couple of times and I anticipate that we will continue to meet, perhaps even until his death. I hope to be of service to him, and his wife and two little girls as they face this challenge together. As some of you know, I've served as a death doula for some time and feel called to support when asked or called.
For Mankind Project Men, I'll be restarting the webinars on shadow watching for elders, leaders and men who sit in I groups. As I have served in the Shadow Watcher capacity for the Mankind Project's International Circle for some time, I've learned much and am excited to share. This is applicable to any group or individual who wants to learn more about shadow.
I'll continue to see people via phone or zoom, so please schedule when you are ready to take your NEXT STEP.
Big Aloha to you all from Tahoe,
'Be Love Ed'
PS. I encourage you to be good and kind to yourself and each other.
I believe it to be a radical political statement that makes a difference locally and globally.